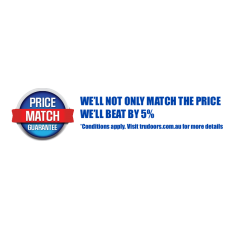 Price Match Guarantee (PMG)
Our price match guarantee that we always offer you the best prices possible and that's a promise. If you find a cheaper advertised price on an identical stocked item that's in stock, we will not only match it, we'll beat it by 5%.
How do I do price match and 5% reduction?
You can contact us on 03 9801 4940 or email us at sales@trudoors.com.au for price match and reduction.
PMG order must be placed directly with us, not via eBay.
What items does the 5% reduction apply to?
All identical products and services with identical terms and conditions that are stocked at Nationwide Products - TRU Doors and in stock at our competitor.
What items are excluded from the PMG?
• Non identical products and services (inclusive of non identical warranties)
• Package deals i.e. products plus delivery or installation bundles
• Cash back and coupon offers
• Contract Pricing
• Competitor clearance products
Nationwide Products - TRU Doors reserves the right to limit the quantity of products available for price-matching at its discretion.